FitHer You, Trowbridge

Ladies Exercise Club - Suitable for all ages and abilities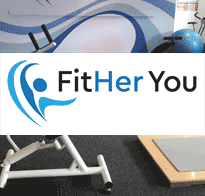 FitHer You- exercise programme is aimed at strength conditioning and cardio exercise at the same time!
A low-impact, yet effective workout which uses machines that are gentle on the joints, using hydraulic resistance, rather than lifting or lowering weight.

Our aim is to make it a personal experience as we appreciate that we are all different - some ladies wish to lose weight, others want to be more tones and some would just like to maintain their general mobility and be in a social environment.
30 minute circuit based workout
£34 per month with free trial week
Friendly social environment
No Joining Fee
FitHer You, Trowbridges opening times are:
Monday-Friday 8.30am-3.00pm, 4.00pm-7.00pm
Saturday 9.00am-11.00am, Sunday Closed
Our contact details are:

FitHer You
Basement
Stone Mill
Court Street
Trowbridge
Wiltshire
BA14 8BU

01225 755 855
Contact us here
We are really easy to find, click here for map