Trevor and Jon by Amy, Trowbridge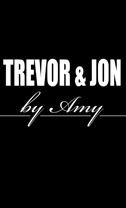 Trevor & Jon is now firmly established at Stone Mill and continues to go from strength to strength.. Everybody knows a good hair cut has the ability to change your overall appearance and mood. A professional hair style compliments the shape of the face and shows off your best features. If you're looking for a hair stylist to help you achieve this in Trowbridge, then look no further!
MEET THE TEAM
Emma Rackley - Emma is 'Trevor & Jon's" colour expert and has worked for 'T&J' for 10 years and 5 years for Amy. During this time she has undertaken further training specialising in colour.
Amy - Amy is very keen on keeping all stylists up to date on their education of hairdressing and making sure herself & her team attend regular courses. Amy went into hairdressing at the age of 14 and began working at 'Toni & Guy' in Bath, Millson Street. Following this she continued to work in salons within Bath, Trowbridge and Melksham and has now progressed to be a salon owner.
Kersha Reeves - Recently joined the team and has worked in salons in Bath and Trowbridge with 9 years experience.
We want people to know that the traditions of 'Trevor and Jon' are always maintained. Everybody is welcome without an appointment (subject to availability) and we always offer fantastic value as well as a personal and professional service.
LATE NIGHTS- Unable to make it in during the day?, visit on a Thursday for a late night cut.

Services and Programmes
'Trevor & Jon by Amy' provide the following great services:
Ladies cuts and restyles
Traditional Gents Cuts
Colouring
Wash and Dry
We use Salon Professional Affinage Product's and infiniti colours.
Shea butter and argan oil for added protection and shine
More than 90% naturally derived ingredients obtained from sustainable and renewable sources.
We have just ordered in the brand new "Kitoko Arte" product range. Kitoko is inspired by the rich natural resources of Africa. Kitoko blends nature and science to deliver expert therapy for every hair type or concern
Click To View Kitoko Arte Brochure >
'T&J by Amy', Trowbridges opening times are:
Monday-Saturday 9.00am-5.00pm,
Thursday 9.00am-7pm,
Sunday Closed
Our contact details are:

Trevor & Jon by Amy
Unit 2
Stone Mill
Court Street
Trowbridge
Wiltshire
BA14 8BU

01225 754001

trevorandjonbyamy@outlook.com
We are really easy to find, click here for map